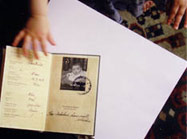 "Things. Places. Years"


A documentary by Klub Zwei, produced by amourfou
70 min. 2004

"Things. Places. Years." shows the impact of forced emigration and the Holocaust in the lives of three generations of women in London. The film also focuses on their work. Nearly all of the twelve women featured in the film found their occupations in the cultural field. most have a Jewish background. However, it is difficult to define what these women have in common. Is it their Jewsihness or their interest in art and culture? Or is it how they confront the past?
Often in their representation, experiences of expulsion, emigration and the Holocaust are treated as things past. The documentary recognises the past as part of the present. This past is part of our identities, as the descendants of those deported and forced into exile, as the children of witnesses, bystanders and perpetrators.
The film does not construct a homogeneous female identity. Rather, "Things, Places, Years" goes beyond the dilemma of ascription and determination. It gives these women ample space to speak about their identities, which is much more multifaceted than their identification as being Jewish. (excerpts form a text by Rosa Reitsamer)



Klub Zwei


is Simone Bader and Jo Schmeiser who work with time based media (video, film, sound, multimedia), text based media (print media, projects in public space, feminist theory and practice), critique of racist representation and politics and a creation of collective working structures in the field of arts.
select an artist
Ursula Biemann
Songül Boyraz/Peter Höll > view
Loulou Cherinet
Pier Paolo Coro
Gustav Deutsch/Mostafa Tabbou

Dias & Riedweg
drive-by-shooting/tallstoreez productionz
Rainer Ganahl
Heidrun Holzfeind > view
Ruth Kaaserer
KanalB

Kinga Kielczynska
Klub Zwei
Jeroen Kooijmans
Micah Magee
Tanja Nelleman Poulsen
Diane Nerwen
Jenny Perlin
Marco Poloni > view
Lisl Ponger
Walid Ra'ad
Goran Radovanovic
Oliver Ressler/Martin Krenn
Alex Rivera > view
Andrea Staka
Hito Steyerl
Susanne Winterling
Sislej Xhafa