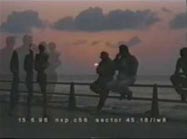 The Dead Weight of a Quarrel Hangs


Walid Ra'ad, 17 min. Lebanon/USA. 1999

The Dead Weight of a Quarrel Hangs is a three-part video project: Missing Lebanese Wars (in three parts), Secrets in the Open Sea and Miraculous Beginnings (in two parts).
The work investigates the possibilities and limits of writing a history of the Lebanese wars (1975-1991). All parts are short fake documentaries, hysterical symptoms of sorts, that present imaginary events conctructed out of innocent and everyday material.The tapes document fantastic situations that beset a number of individuals during the civil wars. The tapes do not document what happened, but what can be imagined, what can be said, what can be taken for granted, what can appear as rational, sayable, and thinkable about the wars.



Walid Ra'ad


grew up in Lebanon and now lives and works in the US. He is the founder of The Atlas Group (a non-profit cultural research foundation based in Lebanon). His works include textual analysis, video and photography projects, and concentrate on the Lebanese civil wars, the Arab-Israeli conflicts, and documentary theory and practice. His video and photography works have been exhibited widely in the US, Western Europe and the Middle East including the 2002 Whitney Biennal and Documenta11.
select an artist
Ursula Biemann
Songül Boyraz/Peter Höll > view
Loulou Cherinet
Pier Paolo Coro
Gustav Deutsch/Mostafa Tabbou

Dias & Riedweg
drive-by-shooting/tallstoreez productionz
Rainer Ganahl
Heidrun Holzfeind > view
Ruth Kaaserer
KanalB

Kinga Kielczynska
Klub Zwei

Jeroen Kooijmans
Micah Magee
Tanja Nelleman Poulsen
Diane Nerwen
Jenny Perlin
Marco Poloni > view
Lisl Ponger
Walid Ra'ad
Goran Radovanovic
Oliver Ressler/Martin Krenn
Alex Rivera > view
Andrea Staka
Hito Steyerl
Susanne Winterling