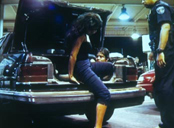 MAMA


A video by Maurizio Dias & Walter Riedweg, 16 min. 2000

MAMA was produced during their inSite residency in San Diego in 2000. It is the result of a long process of working mainly with the Canine for US Customs officers, as well as other US and Mexico government agencies and groups of individuals attempting to cross the border. During their research, the artists found out that more than 27 agencies from the two countries operate simultaneously within the area of Puerta México and the San Ysidro Port of Entry.
The video shows the daily work of US Customs Officers and their dogs at the Port of entry at San Ysidro, explaining how they relate to their work, their dogs and to the general public they encounter in their daily work. To realize the video, the artists asked the officers to give their personal definitions of the words "territory" and "authority".

"...is the imaginary, or the lines drawn in sand, on paper, through marks, that many people, animals, would defend; it is just something that is set up and, how it's done, how do animals know that this is their territory... they mark it. We are a little bit further advanced, we draw lines on a map and there the lines are, and that is our territory and that is whoever else's territories over there."



Mauricio Dias and Walter Riedweg


work together since 1993, developing collaborative public art projects in the fields of visual arts and contemporary performance. Their work's methodology varies from documentary to elaborated fiction, with a formal accent on video installation. It investigates how private psychologies affect the constitution of public space and vice-versa, having as main characteristic the involvement of the audience in the execution of each project.



They

have realized projects in Mexico, Egypt, South Africa, Turkey and in several cities of Brazil, Europe and the US. They participated at the 24th and 25th S.Paulo Biennials, at the 48th Venice Biennial, at the 8th Havanna Biennial, at InSite 2000 and the 4th Mercosul Biennial. Their first extensive retrospective, curated by Catherine David, was recently shown at Centro Cultural Banco do Brasil, in Rio de Janeiro and at the Museum of Contemporary Art of Barcelona. It will be next shown at Kiasma, Museum of Contemporary Art of Helsinki coming October. They currently show at the MOMA Tokyo and prepare new projects for The Liverpool and Shanghai Biennials still for this year.




select an artist
Ursula Biemann
Pier Paolo Coro
Songül Boyraz/Peter Höll > view
Gustav Deutsch/Mostafa Tabbou
Dias & Riedweg
drive-by-shooting/tallstoreez productionz
Rainer Ganahl
Heidrun Holzfeind > view
Ruth Kaaserer
KanalB
Klub Zwei
Micah Magee
Tanja Nelleman Poulsen
Diane Nerwen
Jenny Perlin
Marco Poloni > view
Lisl Ponger
Walid Ra'ad
Goran Radovanovic
Oliver Ressler/Martin Krenn
Alex Rivera > view
Andrea Staka
Hito Steyerl
Susanne Winterling
Sislej Xhafa