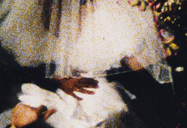 Phantom fremdes Wien (Phantom Foreign Vienna)


A film by Lisl Ponger, 27 min. 2004

An experimental political home movie, based on Super8 material that the maker shot in the years 1991 and 1992. At that time, she roamed Vienna and largely filmed festive gatherings of an almost complete range of immigrant communities who had settled in Austria, but remained true to their culture, habits, language, songs, alcohol use and sense of humour. The traditional immigrant groups from Southern European and North African countries are in the spotlight, but also Western Europeans, such as the Dutch who are included in the film with a strange feast of Saint Nicholas. In the light of the topical debate about immigration, the film maker adapted the material that she once left out into an anthology that invites reflection and a smile.



Lisl Ponger


(1947, Nürenberg) lives and works in Vienna, Austria. She is co-founder of Sixpack Films and guest lecturer in art photography in Vienna.

select an artist
Ursula Biemann
Songül Boyraz/Peter Höll > view
Loulou Cherinet
Pier Paolo Coro
Gustav Deutsch/Mostafa Tabbou
Dias & Riedweg
drive-by-shooting/tallstoreez productionz
Rainer Ganahl
Heidrun Holzfeind > view
Ruth Kaaserer
KanalB
Kinga Kielczynska
Klub Zwei
Jeroen Kooijmans
Micah Magee
Tanja Nelleman Poulsen
Diane Nerwen
Jenny Perlin
Marco Poloni > view
Lisl Ponger
Walid Ra'ad
Goran Radovanovic
Oliver Ressler/Martin Krenn
Alex Rivera > view
Andrea Staka
Hito Steyerl
Susanne Winterling
Sislej Xhafa