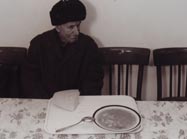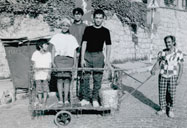 Model House


Goran Radovanovic, 21 min. Serbia. 2000

Model House (2000) follows a Serbian cleaning woman who is a refugee from the Krajina region. Although she is grateful to be working, taking care of the homes of others reminds her of the home she lost during the war. Her narrative is juxtaposed with scenes from the NATO bombing, visuals of dingy refugee camps, excerpts from state television broadcasts spewing inane propaganda, and a voiceover of Milosevic intoning, among other things, "All must be sacrificed for the people, except the people." This is the story about an ex-Yugoslav refugee who wants to be what she once was: an ordinary woman with her own home.
Model House is a satirical quasi-documentary in which the author makes fun of the lack of proper housing of refugee Serbs from Croatia who are living in exile in Serbia. An artificial modular drawing of a house could be a residence for these people, but it also concentrates on the terrible, cramped conditions in which they actually live.



Second Circle


Goran Radovanovic, 27 min. Serbia. 1997

Second Circle is a moving depiction of the lowest class in Serbia told through interviews with three Gypsy families: 1st family - without toilette 2nd family - with toilette 3rd family - toilette to be constructed



Goran Radovanovic


is born in Belgrad, graduated in art history and has worked as a film critic. His documentaries deal with sensitive issues like minorities, refugees, democratization. He has his own production company, Principal Film, for which he did more than 20 public service announcements about the democratization of Serbia between 1998-99. He is probably the most awarded Balkan documentary film author and he worked with many producers and institutions including: Academy Award producer "First Floor Features" - Amsterdam; Teleproduction International - Washington DC; Open Society Institute - Soros Documentary Fund NYC; Intl. Federation of the Red Cross and Red Crescent Society - Geneve; Zweites Deutsches Fernsehen - Germany.
select an artist
Ursula Biemann
Songül Boyraz/Peter Höll > view
Loulou Cherinet
Pier Paolo Coro
Gustav Deutsch/Mostafa Tabbou

Dias & Riedweg
drive-by-shooting/tallstoreez productionz
Rainer Ganahl
Heidrun Holzfeind > view
Ruth Kaaserer
KanalB

Kinga Kielczynska
Klub Zwei

Jeroen Kooijmans
Micah Magee
Tanja Nelleman Poulsen
Diane Nerwen
Jenny Perlin
Marco Poloni > view
Lisl Ponger
Walid Ra'ad
Goran Radovanovic
Oliver Ressler/Martin Krenn
Alex Rivera > view
Andrea Staka
Hito Steyerl
Susanne Winterling