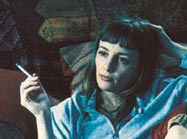 YUGODIVAS


A documentary by Andrea Staka, 60 min.
2000 (Original format: 35mm)

A close-up look at five New York women. They are painters, musicians and actresses who are talented, self-confident and beautiful. In addition to their friendship, what unites them is their common homeland: the former Yugoslavia. Seen from a distance, far away from wartime occurrences, a surprisingly different perspective offers itself to the viewer.
Mira, Milica, Sandra, Vesna and Danijela belong to a generation of young people from Belgrade who left the country long before war broke out in former Yugoslavia in order to fulfill their dreams abroad. They left a country that no longer exists. Memories of their old homeland and adjustment to their new lives constantly occupy their thoughts.
From a personal and subjective viewpoint, filmmaker Andrea Staka depicts in YUGODIVAS stories that shift between everyday life, stage, painting and music. With images that are gripping and at the same time empathetic, the film sensitively approaches the subject matter of the artists and their work. Personal memories and reflections stand in for the flood of media reports.



Andrea Staka


born in 1973, completed her MFA in Zurich, Switzerland. She has made various short films and documentaries that featured at film festivals such as Sundance and Locarno and have won numerous awards. Andrea Staka lives and works in New York.
select an artist
Ursula Biemann
Songül Boyraz/Peter Höll > view
Loulou Cherinet
Pier Paolo Coro
Gustav Deutsch/Mostafa Tabbou

Dias & Riedweg
drive-by-shooting/tallstoreez productionz
Rainer Ganahl
Heidrun Holzfeind > view
Ruth Kaaserer
KanalB

Kinga Kielczynska
Klub Zwei

Jeroen Kooijmans
Micah Magee
Tanja Nelleman Poulsen
Diane Nerwen
Jenny Perlin
Marco Poloni > view
Lisl Ponger
Walid Ra'ad
Goran Radovanovic
Oliver Ressler/Martin Krenn
Alex Rivera > view
Andrea Staka
Hito Steyerl
Susanne Winterling