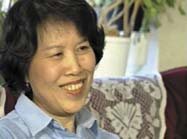 Fremmedsyn


Tanja Nelleman Poulsen, 43 min. Denmark 1999

Fremmedsyn is a TV project, which questions Danish nationality. As a response to how the "new Danes / the newcomers" are usually represented by Danish media, 15 people from 15 different countries who settled in Denmark were invited to speak about Danes and Denmark. The project was conceived as inserts in television programs and therefor consists of 2-3 minute long spots which match the average length of Danish commercials.
(Fremmedsyn is a play on words on the view of the future and view of the foreigners)



Tanja Nelleman Poulsen


studied at the Academy of Fine Arts in Aarhus, Denmark. She uses site specific interventions in public spaces to address social issues in everyday life, challenging the conventional relationship between artwork and viewer, art and everyday life.



select an artist
Ursula Biemann
Songül Boyraz/Peter Höll > view
Loulou Cherinet
Pier Paolo Coro
Gustav Deutsch/Mostafa Tabbou

Dias & Riedweg
drive-by-shooting/tallstoreez productionz
Rainer Ganahl
Heidrun Holzfeind > view
Ruth Kaaserer
KanalB

Kinga Kielczynska
Klub Zwei

Jeroen Kooijmans
Micah Magee
Tanja Nelleman Poulsen
Diane Nerwen
Jenny Perlin
Marco Poloni > view
Lisl Ponger
Walid Ra'ad
Goran Radovanovic
Oliver Ressler/Martin Krenn
Alex Rivera > view
Andrea Staka
Hito Steyerl
Susanne Winterling