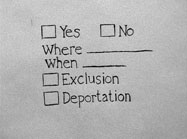 View from Elsewhere


a film by Jenny Perlin, Switzerland/USA, 22 min 2002

Migration, prejudice, intolerance, and violence have been seen as inevitable consequences of culture. View from Elsewhere reminds us that border closings, deportations, and visa restrictions all have real, tangible effects on peoples lives. It also presents moments in which memory, imagination, and communication connect us to each other, the instants where past and present meet.



Jenny Perlin


studied at Brown University, the Art Institute of Chicago (MFA) and at the Whitney Independent Study Program.
Perlin's projects focus on issues of misunderstanding, falsification, detritus, and documentary reconstruction. Her films have screened nationally and internationally, including the Whitney Museum of American Art, Havana Biennial, Pacific Film Archive, Walker Art Center, and Kino Arsenal, Berlin. Exhibitions include: the Drawing Center, P.S. 1/MoMA , Apex Art, Shedhalle, Zurich, the Kunsthalle Exnergasse, Vienna, and the Swiss Expo 02.
select an artist
Ursula Biemann
Songül Boyraz/Peter Höll > view
Loulou Cherinet
Pier Paolo Coro
Gustav Deutsch/Mostafa Tabbou

Dias & Riedweg
drive-by-shooting/tallstoreez productionz
Rainer Ganahl
Heidrun Holzfeind > view
Ruth Kaaserer
KanalB

Kinga Kielczynska
Klub Zwei

Jeroen Kooijmans
Micah Magee
Tanja Nelleman Poulsen
Diane Nerwen
Jenny Perlin
Marco Poloni > view
Lisl Ponger
Walid Ra'ad
Goran Radovanovic
Oliver Ressler/Martin Krenn
Alex Rivera > view
Andrea Staka
Hito Steyerl
Susanne Winterling