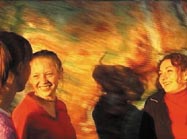 balance


A video by Ruth Kaaserer. German with English subtitles,
28 min. 2000

balance focuses on Ewa, Magda and Andrea, the daughters of immigrants who talk about growing up, their friendship and their plans for independence. These scenes are juxtaposed with clips in which the girls perform their own hip-hop numbers for the camera and shots of other teenagers roller-skating, playing baseball, strolling or talking; Edited to create a rhythmic and lively combination of documentary, feature film and art video, balance shows a process of speaking and performing between one's own identity and the identity assigned by others, everyday life and performance, contemporary youth culture and the desire to create space for feminist ideas and the views of immigrants to develop. (Rike Frank)



Ruth Kaaserer


was born in 1972, studied at the Academy of Fine Arts in Vienna. Her work focuses on young women in their everyday environment. She has shown her work at Kunsthalle Exnergasse/Vienna ("Willkommen, bienvenue, welcome" 1996), Kunsthalle Vienna ("Lebt und arbeitet in Wien" 2000), Steirischer Herbst/Graz ("hers-video as a female terrain" 2000), Shedhalle Frauenfeld/Switzerland ("Es lebe der Sport" 2000), Etsdorf ("Zweite Runde" 2001), Parapluefabriek/Amsterdam ("Winterkabinet" 2001), Bialystok/Poland ("Get out!" 2001), Ehemaliges Tüchler-Fabriksgebäude/Vienna ("Langweilige Geschichten Ÿber den Alltag" 2002), Kunstraum München/Munic ("talk of the town" 2002). Festival screenings include Videonale/Bonn, Diagonale 2001/Graz, Filmcasino/Vienna, Festival de lŐimage en mouvement 2002/Geneva. She is a co-founder of *imo* collecting television.
select an artist
Ursula Biemann
Songül Boyraz/Peter Höll > view
Loulou Cherinet
Pier Paolo Coro
Gustav Deutsch/Mostafa Tabbou
Dias & Riedweg
drive-by-shooting/tallstoreez productionz
Rainer Ganahl
Heidrun Holzfeind > view
Ruth Kaaserer
KanalB
Kinga Kielczynska
Klub Zwei
Jeroen Kooijmans
Micah Magee
Tanja Nelleman Poulsen
Diane Nerwen
Jenny Perlin
Marco Poloni > view
Lisl Ponger
Walid Ra'ad
Goran Radovanovic
Oliver Ressler/Martin Krenn
Alex Rivera > view
Andrea Staka
Hito Steyerl
Susanne Winterling
Sislej Xhafa