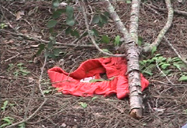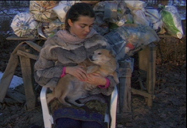 Sport shoes
A video by Kinga Kielczynska, 5 min. 2000

Lots of Moroccan refugees cross the Mediterranean Sea on inflatable rafts risking their lives. At the narrowest point, the border between Morocco and Spain is only 11 kilometers. Most crossings occur at night. If the weather is favorable the crossing is easy.
The focus of the video, ironically, is not on their effort but on their clothing left behind on the beach and the surrounding forests. Police like investigation of the "illegal fashion". The first world approaches the third world with its own rules. The fashion catalogue of the refugees. What to wear when you decide to escape your country?
"Sweet dream" and "Untitled"
Two videos by Kinga Kielczynska, 1,5 min each. 2003

"Sweet dream" and "Untitled" are two videos in a series of camouflage-like self-portraits that have been made while living and traveling to different countries. Kinga assumes different roles of cultural and social identities such as a homeless person in Times Square in New York City, or a Ukrainian worker in Warsaw (The scene was shot in the courtyard of a house where illegal Ukrainian workers live). This continuing series refers to the image of a female in mass media and popular culture. The portraits are like short commercial spots with a different female character in each of them. They contradict the shiny advertising aesthetics with its home made quality.

Kinga Kielczynska
was born 1972 in Poland. She studied art at the Rietveld
Academie and the Sandberg Institute in Amsterdam. She lives and works
betweenAmsterdam, Warsaw, and New York. She shows her work in galleries as well as
performing live as a VJ in nightclubs.

select an artist
Ursula Biemann
Pier Paolo Coro
Songül Boyraz/Peter Höll > view
Gustav Deutsch/Mostafa Tabbou
Dias & Riedweg
drive-by-shooting/tallstoreez productionz
Rainer Ganahl
Heidrun Holzfeind > view
Ruth Kaaserer
KanalB
Kinga Kielczynska
Klub Zwei
Jeroen Kooijmans
Micah Magee
Tanja Nelleman Poulsen
Diane Nerwen
Jenny Perlin
Marco Poloni > view
Lisl Ponger
Walid Ra'ad
Goran Radovanovic
Oliver Ressler/Martin Krenn
Alex Rivera > view
Andrea Staka
Hito Steyerl
Susanne Winterling
Sislej Xhafa