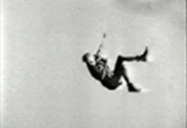 In the blood


Diane Nerwen, 31 min. USA. 2000

In The Blood is an experimental documentary about American Jewish attitudes towards Germans, and the role the Holocaust plays in shaping Jewish identity. This layered collage combines appropriated images, original footage, sampled sounds, and fragments of audio conversations, to examine perceptions and representations of Germany, cultural identity, collective memory, and history.



The Great Yiddish Love/Die grosse jiddische Liebe


Diane Nerwen, 15 min. USA. 2002

Die grosse Liebe (The Great Love, Germany 1942), an UFA musical drama, was one of the Third Reich's largest box office hits and Zarah Leander's most celebrated role. This new version "The Great Yiddish Love", set in Berlin and New York's Lower East Side, is a love story starring self-exiled Marlene Dietrich and her Nazi-endorsed replacement, Zarah Leander. This faux-narrative is seamlessly reconstructed from Hollywood and UFA film clips, and the audio "dubbed" using fragments of dialog from Yiddish films from the 1930s and 40s.



Diane Nerwen


is a media artist and teacher living in New York City. Her experimental videotapes use collage and appropriation to explore the intersection of media, politics, and everyday life. Her work has been screened internationally at venues including the New York Video Festival, Ars Electronica, and the Guggenheim Museum. She was the recipient of the 2001 DAAD Artist in Residence Fellowship in Berlin, Germany.
select an artist
Ursula Biemann
Songül Boyraz/Peter Höll > view
Loulou Cherinet
Pier Paolo Coro
Gustav Deutsch/Mostafa Tabbou

Dias & Riedweg
drive-by-shooting/tallstoreez productionz
Rainer Ganahl
Heidrun Holzfeind > view
Ruth Kaaserer
KanalB

Kinga Kielczynska
Klub Zwei

Jeroen Kooijmans
Micah Magee
Tanja Nelleman Poulsen
Diane Nerwen
Jenny Perlin
Marco Poloni > view
Lisl Ponger
Walid Ra'ad
Goran Radovanovic
Oliver Ressler/Martin Krenn
Alex Rivera > view
Andrea Staka
Hito Steyerl
Susanne Winterling