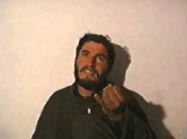 Mister Locke, ...


Marco Poloni, Switzerland, 90 sec. 2002

An interview of a presumed Al-Qaeda terrorist, released by the FBI, is set sync with the sound of an interview taken from "The Passenger" by Michelangelo Antonioni. This short video problematizes issues of understanding across cultural boundaries, and issues of authenticity.

> view trailer



Marco Poloni


is a Swiss and Italian artist born 1962. He lives and works in Berlin. Recent personal exhibition: sleepers, Raum f&uumlr Aktuelle Kust o.T. Luzern (Switzerland), Attitudes, Geneva. Recent collective exhibition: Zeitgenössische Fotokunst aus der Schweiz, Neue Berliner Kunstverein, Berlin.
select an artist
Ursula Biemann
Songül Boyraz/Peter Höll > view
Loulou Cherinet
Pier Paolo Coro
Gustav Deutsch/Mostafa Tabbou

Dias & Riedweg
drive-by-shooting/tallstoreez productionz
Rainer Ganahl
Heidrun Holzfeind > view
Ruth Kaaserer
KanalB

Kinga Kielczynska
Klub Zwei

Jeroen Kooijmans
Micah Magee
Tanja Nelleman Poulsen
Diane Nerwen
Jenny Perlin
Marco Poloni > view
Lisl Ponger
Walid Ra'ad
Goran Radovanovic
Oliver Ressler/Martin Krenn
Alex Rivera > view
Andrea Staka
Hito Steyerl
Susanne Winterling