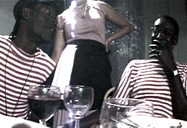 White Women


A video by Loulou Cherinet, 52 min. 2002

Eight African men are sitting around a circular table.The men have just enjoyed an excellent dinner. One aftyer the other, they tell stories about white women. With: Abdoulie Ndow, Hassan Bah, Henok Asbe, Ismael Fatty, Rishala
Ndiayé, Tarik Demissie, William Ddumba, Viveca Motsieloa, Yahya Thune

"-That's a long story you know. Because the black man's dream, all his life, is to fuck a blonde. To go to bed with a white woman. It doesn't matter if she's a Swede, an Italian or American or whatever.
- You are generalizing! No! Not all black men. There are some black men who doesn't want to have...
- I agree with you. You should never generalize. There are always exeptions.
-Yes, mm... one out of hundred."



Loulou Cherinet


was born in 1970 to an Ethiopian father and a Swedish mother. She has lived and worked in Indonesia, USA, Sweden and Ethiopia. Since 1993 she has exhibited her work in a dozen countries around the world. She holds a degree from Addis Ababa University School of Fine Art & Design and is currently studying at the Royal University of Fine Arts in Stockholm.
Loulou Cherinets work affiliates to the documentary. But it is a documentary that is arranged through deliberate staging. She focus on providing conditions for truth-telling moments and draws the attention towards the cultural translations made by its receivers. Her work moves in a minefield of prejudice, preconceived notions and clichés where the private and intimate connects with political realities and stories bear obvious micro political significance."

select an artist
Ursula Biemann
Loulou Cherinet
Pier Paolo Coro
Songül Boyraz/Peter Höll > view
Gustav Deutsch/Mostafa Tabbou
Dias & Riedweg
drive-by-shooting/tallstoreez productionz
Rainer Ganahl
Heidrun Holzfeind > view
Ruth Kaaserer
KanalB
Kinga Kielczynska
Klub Zwei
Jeroen Kooijmans
Micah Magee
Tanja Nelleman Poulsen
Diane Nerwen
Jenny Perlin
Marco Poloni > view
Lisl Ponger
Walid Ra'ad
Goran Radovanovic
Oliver Ressler/Martin Krenn
Alex Rivera > view
Andrea Staka
Hito Steyerl
Susanne Winterling
Sislej Xhafa