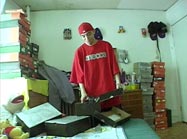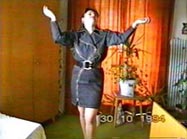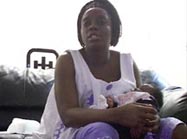 Three things I like...


A video by Heidrun Holzfeind (USA) 14 min. 2002
(English with Spanish subtitles)

Three things I like is a short documentary about Fabian, a 19 year old Mexican who lives in New York and works as a busboy in an Italian restaurant. Fabian is most worried about his career and money, how to pay for school, rent, cable and internet and his passion, sneakers. (He owns 55 pairs including a collection of rare Jordan's.) What he likes the most about the US, he says grinning, are: the opportunities, Mc Donald's and the green bills... His motivation for coming to the US, his expectations and hopes like the affection for his possessions address cliche pictures of young Mexicans following the promise of the American Dream.
Director, Script, Camera, Editing: Heidrun Holzfeind. Starring: Fabian Bautista. Additional camera: David Park, Reynold Reynolds. Music: Eve, Ja Rule, Jay-Z, Jermaine Dupri, Orishas. Subtitles: Fabian Bautista, Christian Viveros-Fayne



The Romanians (Live like a king)


A video by Heidrun Holzfeind (Austria) 15 min. 2002

"The Romanians" Aurelia and Peter Plesa came to Austria in 1990 to escape the dictatorship in Romania. Since 1991 they live together in my grandfather's house in Kötschach-Mauthen, a small village in the south of Austria, Carinthia (governed by Haider, the infamous Austrian right wing politician). They discuss the current political and social situation in Romania and their life in Austria, their work at the local factory, their sorrows and dreams. "The Romanians" portraits foreigners with common aims (kids, a steady job, a self-owned house, a nice car, a vacation every year, and a satelite dish to receive Romanian television) and questions our judgement of them.
Their definition of "home" and the focus of their stories constantly shifts between Austria and Romania through mixing footage recorded at their house in Austria and their own home movies from their holidays in Romania. In exploring the boundaries between documentary film and video art the work also addresses the possibilities and limits of the media itself, different strategies of presentation and re-presentation, and a mediated depiction of reality.
Script, Camera, Editing: Heidrun Holzfeind. VHS footage: Aurelia and Peter Plesa. Music: Bairom1, Rhumbe, Gheorghe Zamfir

> view trailer



new jersey dreams


A trailer for a documentary by Heidrun Holzfeind (USA)
2 min. 2002

new jersey dreams tells the story of Martha, a young woman from Ghana who tried to come to the US to work, but was deported for a fake visa. Martha's friend Caroline, also from Ghana, lives in Orange, New Jersey. Since her arrival 7 years ago she works in a parking lot at Newark airport. (work in progress)

> view trailer



Heidrun Holzfeind


studied Art History and Fine Arts at the Academy of Fine Arts in Vienna and at Cooper Union /New York. She lives and works in New York.
Her work has been shown at BAK/Utrecht, Kölnischer Kunstverein/Cologne, Cityscape/Rotterdam, Kunstverein Munic, Image Festival/Tokyo, Diagonale/Graz, Transmediale/Berlin, Swiss Institute/New York, Videoart Center Tokyo, Art&Idea/Mexico City, Fondazione Adriano Olivetti/Rome, Romadocfest/Rome, VideoEx/Zurich, Friche La Belle de Mai/Marseilles, Roeblinghall/New York, Videofestival/Belgrade, Museumsquartier Vienna and other venues.
select an artist
Ursula Biemann
Songül Boyraz/Peter Höll > view
Loulou Cherinet
Pier Paolo Coro
Gustav Deutsch/Mostafa Tabbou
Dias & Riedweg
drive-by-shooting/tallstoreez productionz
Rainer Ganahl
Heidrun Holzfeind > view
Ruth Kaaserer
KanalB

Kinga Kielczynska
Klub Zwei

Jeroen Kooijmans
Micah Magee
Tanja Nelleman Poulsen
Diane Nerwen
Jenny Perlin
Marco Poloni > view
Lisl Ponger
Walid Ra'ad
Goran Radovanovic
Oliver Ressler/Martin Krenn
Alex Rivera > view
Andrea Staka
Hito Steyerl
Susanne Winterling
Sislej Xhafa