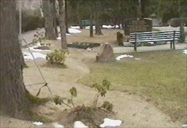 Normality 1-10


A work in progress by Hito Steyerl,
36 min. 2000/2001

Forming a chilling collection of current events, Normality 1-10 is a chronicle of anti-Semitic acts in Germany and Austria committed over the past three years. The concept of normality, which has been virtually worn out in public rhetoric, is interpreted by Steyerl as the symbol of an ongoing undeclared war, a new and barely noticed right wing radicalism which has become deeply embedded in our everyday lives and popular culture. Violence, according to the statement made by this film, is a method of normalization- and normality is a consequence of violence. In the third episode, Steyerl stated her hope that this would be the last of her series. "But that will not happen by itself. Something must be done first." Normality 1-10 is a call for more courage to defend one's convictions publicly.



Hito Steyerl


was born in 1966 in Munich. She studied camera at the Academy of Visual Arts in Tokyo and documentary film at the Hochschule für Fernsehen und Film Munich. She works as a journalist and author and participated in various exhibitions and lecturing.
select an artist
Ursula Biemann
Songül Boyraz/Peter Höll > view
Loulou Cherinet
Pier Paolo Coro
Gustav Deutsch/Mostafa Tabbou

Dias & Riedweg
drive-by-shooting/tallstoreez productionz
Rainer Ganahl
Heidrun Holzfeind > view
Ruth Kaaserer
KanalB

Kinga Kielczynska
Klub Zwei

Jeroen Kooijmans
Micah Magee
Tanja Nelleman Poulsen
Diane Nerwen
Jenny Perlin
Marco Poloni > view
Lisl Ponger
Walid Ra'ad
Goran Radovanovic
Oliver Ressler/Martin Krenn
Alex Rivera > view
Andrea Staka
Hito Steyerl
Susanne Winterling